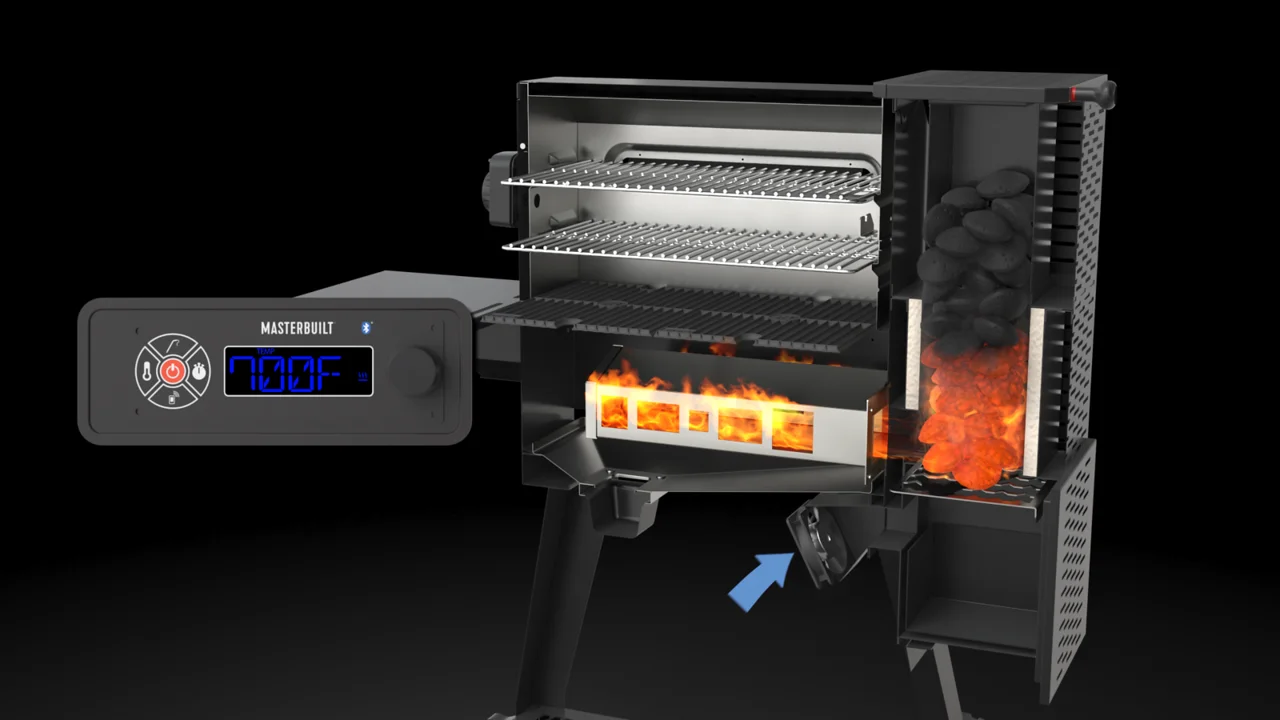 BBQs 2u have been involved in BBQ business for three generations of the same family. This provides them with a deep knowledge and understanding of barbequing.
Hence, their customers are assured of the industries' best service and advice to get the most of their BBQs. They are authorised to deal with some of the most reputed BBQ brands from the UK and the US like Kamado Joe and Napoleon barbecue.
Masterbuilt is a worldwide famous BBQ brand and the US's largest BBQ brand. BBQs 2u are also an authorised dealer for Masterbuilt BBQs, smokers and accessories.
Masterbuilt has launched the first ever Gravity Series which are digitally controlled charcoal BBQs and smokers. The Masterbuilt – Gravity Series 1050 is a huge and innovative solution for barbequing.
The Gravity Series 1050 measures 52.16 inches high, 61.02 inches wide, and 33.07 inches deep, which provides a wide cooking space of 1050 sq. inches.
You can cook 17 chickens or 45 burgers at a time. If you love the flavour of charcoal, you must take Gravity Series 1050 to your camp. It is easy and quick to assemble and start grilling instantly.
You can digitally set the temperature to control the DigitalFan™ and cooking temperature. The Gravity Series 1050 also features a GravityFed™ Charcoal Hopper that can hold charcoal fuel for uninterrupted cooking for up to 8 hours.
There is also cord storage in the back of side shelf to avoid any damage done to the power supply. It also includes a stainless steel foldable shelf and a side shelf.
You just need to load the charcoal in the hopper and light the charcoal to let the gravity work for you. The gravity helps to continuously supply the fuel and keep the cooking on till you are finished with your cooking.
BBQs 2u are offering Gravity Series 1050 in various packages, which includes many Masterbuilt accessories at a discount of 4.52% to 4.60%.
The Gravity Series 1050 is available in a pit master pack, which includes a 1050 BBQ, a cover, a rotisserie, 7.25 kg of lump charcoal, and a pizza oven, at a price of £1,305.00. You can also buy a starter pack of 1050 BBQ at just £1,049.00.
BBQs 2u are also selling the Masterbuilt Gravity Series 800, a lower version of 1050 BBQ. It has 800 sq. inches of cooking space and a flat top griddle insert.
The Masterbuilt Gravity Series 800 is available in different packages that offer complementary free accessories. When you need to choose between the Masterbuilt Gravity Series 1050 and 800, you must consider your guests' size and budget.
The 800 Masterbuilt Gravity model is ideal for small to medium-sized families while the Masterbuilt – Gravity Series 1050 model is best suited for large-sized families.
Also, Series 800 model is more affordable than 1050 model. Specifically, the 1050 model is design for serious BBQ enthusiasts who often organise barbequing and requires a BBQ with high-performance and innovative features.
BBQs 2u have partnered with Klarna to help you shop now and pay later. You can also reach their in-store at Abersoch to pick your best and trending BBQ.